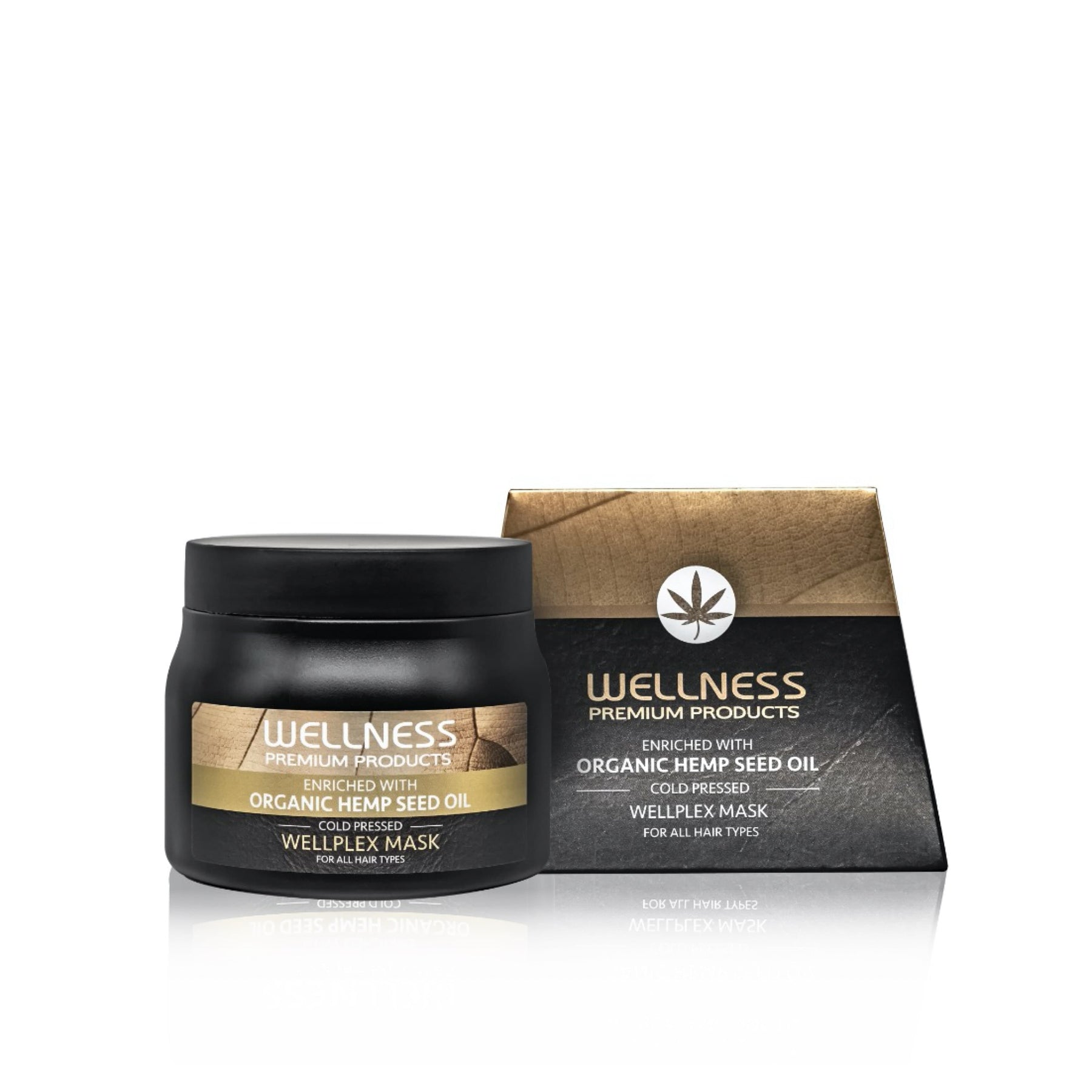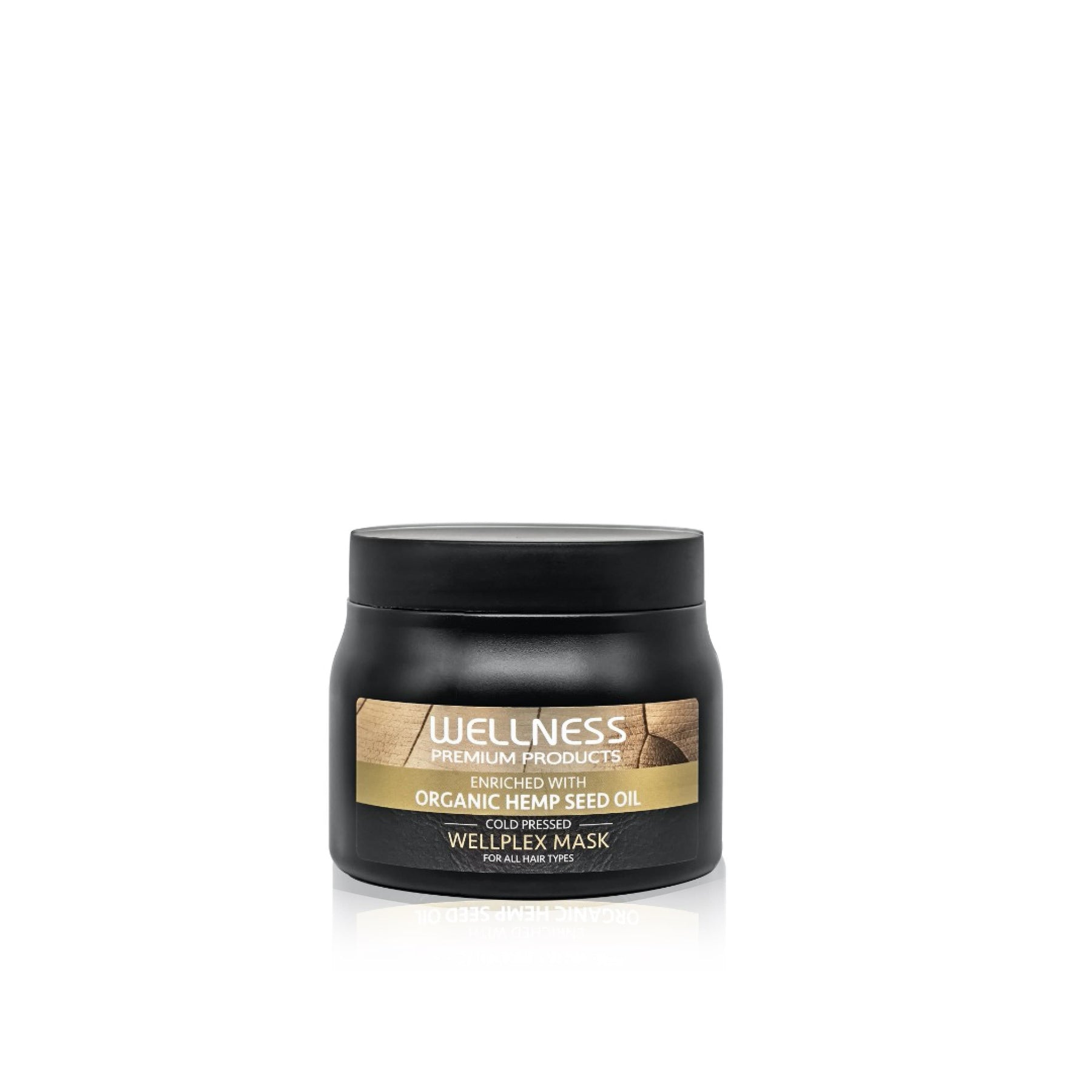 Wellplex Mask
WELLPLEX MASK FOR DAMAGED & COLOR TREATED HAIR

Wellplex Mask is a hydrating plant-based rebonding solution to combat all hair types struggling with weakening, thinning, and breakage. It works wonders by strengthening the hair structure from the inside out using powerful plant-based ingredients like organic cold-pressed hemp seed oil, plumping hyaluronic acid, and fiberhance that penetrate the hair cortex and reverse internal keratin damage. The mask treatment is especially beneficial for hair that has been chemically processed, heat damaged, or has become brittle in need of intense care.

Instructions: Distribute Mask on the full length of clean wet hair, roots to ends. Leave on for 5 minutes minimum or as long as desired and rinse. Follow with the heat protectant Wellplex Serum.
Features: 
500ml

Clean beauty | No parabens, sodium chloride, or gluten

Enriched with organic cold-pressed hemp seed oil

Proprietary micro-capsule technology to deliver fresh healing properties

Promotes hair growth and scalp-microcirculation 

Color-safe with anti-breakage benefits

Superior plant protein & hydration benefits

Repairs extreme chemical and UV damage

Noticeable results within the first-time use of the collection
Hemp Beauty Benefits: Hemp is the most hydrating seed and most nutritional plant-protein found on the planet! Hemp naturally contains essential fatty acids 3, 6, & 9, vitamins, and essential minerals that promote scalp heath, hair growth, shine, flexibility, and thickness of each follicle while softening the hair texture.
Wellplex Treatment: Recommended regimen for all hair types struggling with hair weakening, thinning, and breakage. Wellplex is a repairing treatment infused with organic cold-pressed hemp seed oil, fiber-plex, and hyaluronic acid. The Wellplex synergistic collection includes Shampoo, Conditioner, Mask, Serum, and a spray-in, leave-in Mask style aid. All products work to reverse internal Keratin damage within the hair structure up to 3X by creating additional hydrogen and ionic bonds to benefit the hair complex. Results of healthy, strong, repaired hair are noticeable within first use. Directions: After shampooing and/or conditioner, apply a small amount of mask on wet hair. Massage mask into the ends well. Leave on for a minimum of 5 minutes to a maximum of 1 hour, wash out thoroughly, and complete the treatment with Wellplex Serum.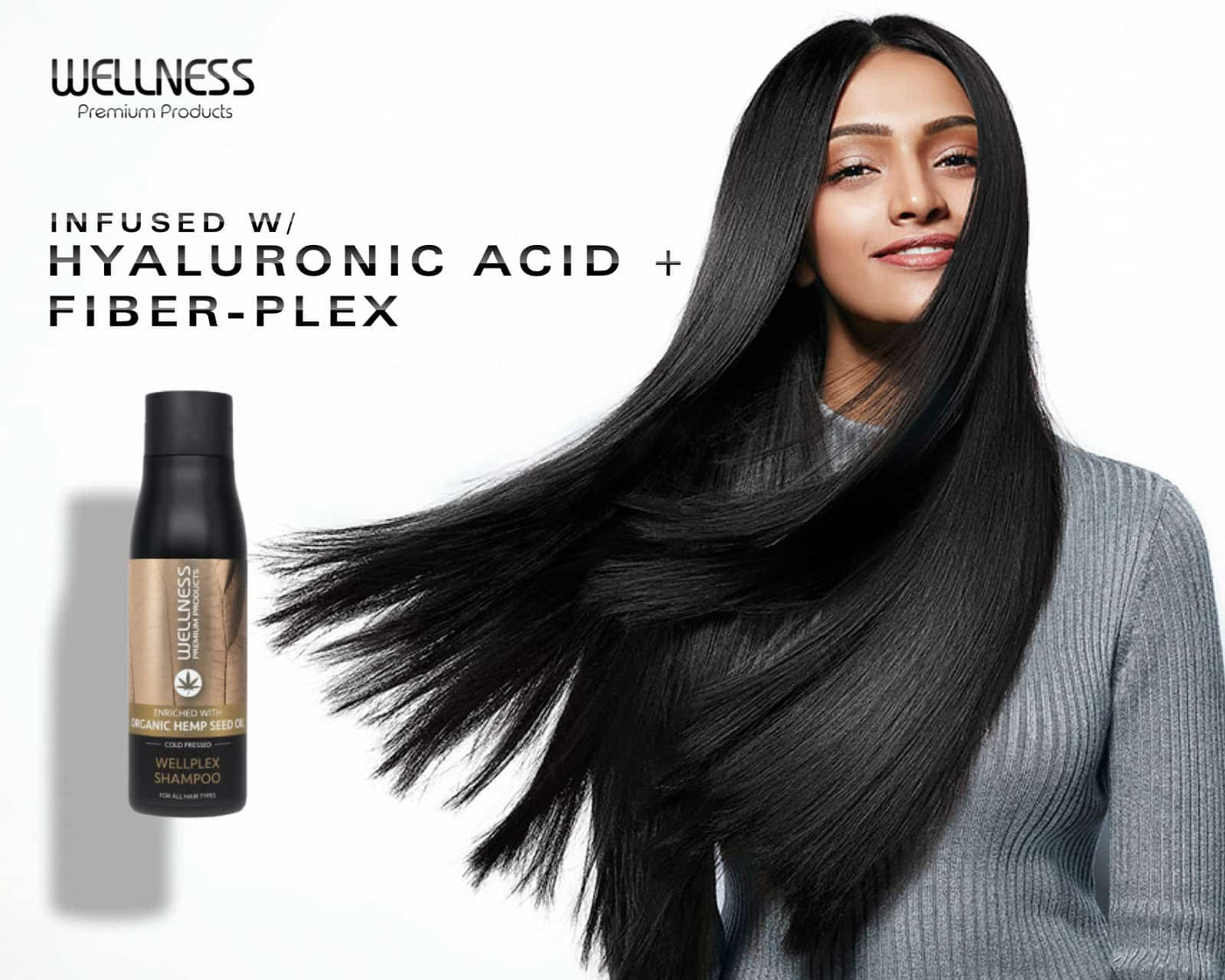 Infused w/ Hyaluronic Acid
FOR DAMAGED or COLOR TREATED HAIR
Our Wellplex Collection is a cleansing and repairing collection infused with organic cold-pressed hemp seed oil, fiber-plex, and hyaluronic acid.